Drone Pilot Ground School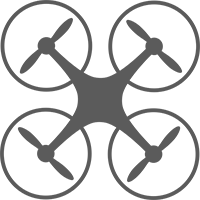 Duration: 3 Hours (approx.)
Location: Tulsa, Oklahoma
Pilots of Unmanned Aerial Systems or Drones are now being required to be licensed by the FAA, if using their drone for commercial purposes.
Tulsa County Helicopters now offers a "all inclusive" solution for drone pilots to gain the knowledge required to obtain their initial FAA UAS Pilot certificate.
The all inclusive course contains:
12 hours of ground instruction
FAA knowledge test coordination
12 hours of ground instruction
consists of four 3hr. sessions, beginning on Monday's at 6:00pm. Our class size is limited to 5 students, to ensure quality attention to each students needs.
Knowledge areas covered during these sessions are;
Applicable regulations relating to small unmanned aircraft system rating privileges, limitations, and flight operation;
Airspace classification, operation requirements, and flight restrictions affecting small unmanned aircraft operation;
Aviation weather sources and effects of weather on small unmanned aircraft performance;
Small unmanned aircraft loading;
Emergency procedures;
Crew resource management;
Radio communication procedures;
Determining the performance of small unmanned aircraft;
Physiological affects of drugs and alcohol;
Aeronautical decision-making and judgement;
Airport operations; and
Maintenance and pre-flight inspection procedures
Test prep software:
Tulsa County Helicopters provides you with your own copy of state of the art electronic study guide, compatible with any platform. This gives the student a excellent way to study for their knowledge exam, when it is convenient for them.
FAA knowledge test coordination:
Tulsa County Helicopters will coordinate your testing date,time and testing fee's for your FAA knowledge exam from right within our facility. Taking your exam in the same environment as you've been training in helps to relieve anxiety and stress for many students.
Eligibility
To become a FAA licensed UAS pilot you must:
Be at least 16 years of age
Be able to read, speak, write, and understand English (exceptions may be made if the person is unable to meet one of these requirements for a medical reason, such as hearing impairment)
Be in a physical and mental condition to safely operate a small UAS
Pass the initial aeronautical knowledge exam at an FAA-approved knowledge testing center